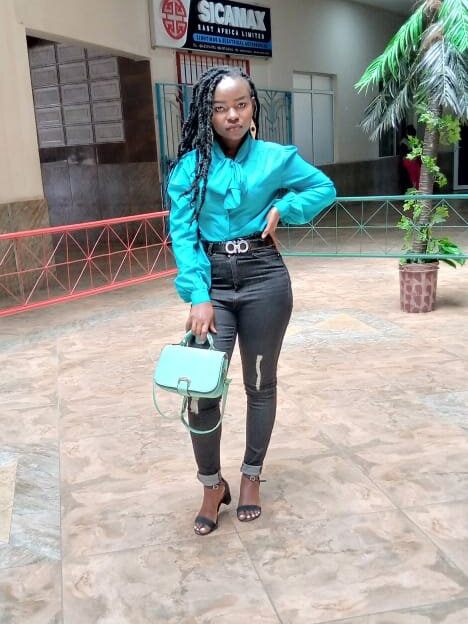 My name is Irene; I am 21 years old and the only child of my mother. When I was 14 years my mum left me with my aunt and went to Nairobi to look for a job as she did not have a stable income and nothing was forthcoming in the village. When mum left, we never heard anything from her and she did not send any money. This made my aunt angry and hostile towards me and she sent me away to look for my mother in Nairobi.

When I reached Nairobi bus station, I became stranded as I have never been to Nairobi and did not know where to go. I stayed at the bus station for three weeks. I stayed on the streets, sleeping and feeding there and engaging in a difficult street life which was not appropriate for my age. The people around noticed and I was taken to the police station where I spent a night. They helped me trace my mother who was by then living and working in the streets as a hawker. Her state made me weep because I now understood why we did not hear from her. I joined her and we stayed on the streets for a whole year selling vegetables, but the profit was so little that we could not afford accommodation. We would sleep out in the corridors of Muthurwa Market with nothing to cover ourselves. One day, the chief noticed us and liaised with RDC who sent a team of social workers to Muthurwa market to rescue me.

I joined RDC rehabilitation and was provided with food, shelter, clothing and even education, things I did not have for a very long time. Counsellors supported me with counselling sessions to come to terms with what I had gone through while in the street; emotionally, I was not stable because of my suffering. My mum was allowed to visit me while at the rehabilitation which made me less anxious. While I was in rehabilitation RDC supported my mother with capital which she used to expand her business. She opened a grocery shop selling vegetables, tomatoes, onions and even fruits. RDC also supported my mother to get an affordable house and she shifted from the streets.

I stayed at the Centre for one year then I was taken to my mother and was enrolled back in formal school where I sat for national primary exams and scored 293 marks. This and the fact that my mother's business had not yet stabilized to take over all education costs, qualified me for RDCs secondary sponsorship programme. I sat for Kenya Certificate of Secondary Education and passed with a C+ and could not hide my tears when I was called to join Technical University of Mombasa.

I am currently in third year pursuing a Bachelor of Business and Office Management. RDC supported me throughout and guided me to apply for a Higher Educations Loans provide by the government. My mum has since then been supporting me through her business by paying for accommodation and food while the Loan pays for my fees. I feel lucky to have reached where I am. I have become a confident young woman, well balanced, I am active in class, and I have made friends in college. I am not saying that it is easy for me, sometimes it is hard, but at least it is better. Mum is still struggling to help me with my Education but the environment we are all staying is good.

Rescue Dada truly made a difference in my life. Thank you RDC for a chance to dream again.