We are extremely proud of every girl who passed through the rehabilitation and transformed her life into a life away from the street. However, often times, the former street connected girls find themselves back in the situations that once made them to be out in the streets. Lack of food in their families is one of those situations.
Our country, as the rest of the world, is experiencing extreme inflation and economic recession. The families of our former street girls are struggling to put food on the table. Many have reached out to us for support.  Christmas is a season of love and warmth; it would be unthinkable to let our girls go hungry this first Christmas away from the streets.
Please support our crowd funding campaign and join us in building food baskets to support 60 families of former street connected girls for a period of two months. All families are part of our economic empowerment program and the food baskets will allow them to eat while they work hard on establishing their businesses.
We aim to raise Ksh. 500,000 (USD 4500) by 10th December. Any amount will help us make a difference in the lives of these girls. All donations given will go directly to support former street connected girls and their families.
I would love to sit down with you and discuss this further, you can reach me directly through 0725694624 or rescuedadacentre@gmail.com.
Please share our Facebook page https://www.facebook.com/rescuedadacentre with your friends, families and coworkers. With more people aware of our cause, we will be one step closer to reaching our goal.
 # help former street connected stay out of the streets #giving back #crowdfunding
DONATE NOW
PAYBILL DETAILS
PAYBILL NO: 4078043
ACCOUNT NAME: RESCUE DADA CENTRE
BANK DETAILS
BANK: STANBIC BANK
ACCOUNT NAME: RESCUE DADA EMPOWERMENT
ACCOUNT NUMBER: 0100002718008
BRANCH: WESTLANDS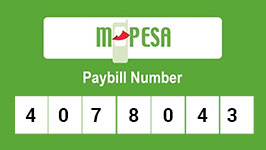 Account Name: Rescue Dada Centre